"Unleashing the Potential of Danish SMEs through Creative Problem-Solving"
SMEs in Denmark can partake in innovation challenges and industry-oriented workshops in the Talent to a Green Denmark project. These challenges provide tools that enhance your company's value proposition by connecting you with highly skilled individuals with diverse profiles.
This experience will give companies the chance to find innovative solutions for problems they are tackling and the possibility to meet a future employee.
"Enhancing your career through innovation and problems solving workshops"
This innovation challenge is an opportunity for you to increase your business consultant skills and build your professional network. You will also be able to connect and meet other students from a variety of backgrounds.

Practical information:
Date: October 2023
Time: TBD
Venue: TBD
Photo credits: Jason Goodman
Co-financed by the European Union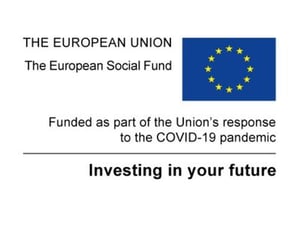 In partnership with
WHY SHOULD YOU JOIN?
COMPANIES
Getting input from a variety of sources will enable your company to develop fresh insights and new perspectives. Create a network of long-term agreements and alliances amongst various organizations and talented individuals. Access to knowledgeable talent with a global perspective from various educational backgrounds. Enhance the image of your brand by showcasing your capacity for adaptability, open-mindedness, and social sustainability.
TALENT
Danish SMSes are a striving force in the Danish economy and with this event, you will have the opportunity to solve issues that impact several areas of society. You along with other interdisciplinary students or recent graduates will be introduced to a business case from a Danish SME. During the event, you will receive mentorship from business professionals and our partners. You will connect, debate, brainstorm, and compare different potential solutions.
Reasons to join the event:


Build a network and grow your competitive skills
Access to a pool of talent and innovation resources, models, and methods
Free mentorship and consultancy
Impact the Danish SMSes ecosystem and build a career
Develop your problem-solving skills
Connect with like-minded professionals
Who can apply?
An international or Danish student (APD/BA/MA) enrolled in a Danish Higher Education.
A graduate from Higher Education with max. 2 years after graduation.
Selection process
The admissions committee will review all of the applications following the application deadline and choose the participants. The online application's motivation area serves as the primary criterion for selection, thus applicants are encouraged to devote time and effort to it. We welcome participants from all academic fields to submit applications for the event.
SPEAKERS
TOUCH
Charlotte Brault
Head of Business Development
Charlotte Brault
Head of Business Development
TOUCH
Alex Knowless
Head of Talent and Digital Strategy
Any further description of this speaker? Write it here to create pop-up when clicking on the speaker. If not, remember to delete this text!
Alex Knowless
Head of Talent and Digital Strategy
AGENDA
9:00-10:00
Welcome
Welcome and overview of the competition.
Innovation in SMEs at a glance and guccesful stories.
10:00-12:00
Introduction
Introduction of the companies and Group formation.
Intro of the company and its challenge.
12:00-13:00
Design Challange
Icebreakers with your team and presentation of the case.
13:00-15:00
Working on the Case
Group work and consulting with mentors.
15:00-16:30
Social Time
Break!
Join the Zumba or Yoga workshop.
16:30 - 18.00
Working on the Case Part II
Group work and consulting with mentors.
Waiting list for companies
Deadline for companies is on :
Deadline for candidates is on :
SIGN UP FOR THE EVENT
Please fill out the form below to participate in the event.


This website is operated by
Copenhagen Capacity, Nørregade 7B, DK-1165 Copenhagen K